3 years ago · 4 min. reading time · visibility ~10 ·
Just A Few Thoughts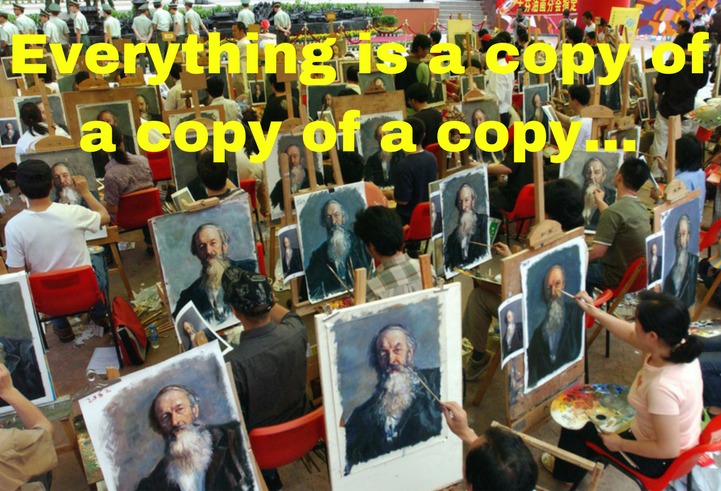 I feel I am slowly reaching the saturation point when it comes to social media activities. I invoke my inner Muse hoping to motivate me to write and finish my drafts. While waiting, I read a lot trying to find inspiration.
Finally, my Muse whispered in my ear! I saw a blog post on LinkedIn in which the author described, pretty much, my feelings regarding social media. He said he's crestfallen with contents that are the same, monotonous and a copy of a copy of a copy. We need more solid content!
The article got me thinking about my social media presence, but more importantly, motivated me to put a few thoughts on the blank screen. 
There are writers able to produce posts daily. Is it possible to produce quality content all the time? What does quality content mean actually?
Searching for definition, I found an article where 25 experts define content quality. 
Since my blogging is not in the service of communicating with customers and selling stuff, I filtered characteristics mentioned in the article and examined a few that can refer to a quality blog post in a general sense.
 
Clear, concise and easy to understand
I would also add - easy to read. There are some authors whose writing style is hard to read. It may sound harsh, but their discourse style is also characterized by long strings of words that actually say nothing. I wonder if the use of vague words, complicated expressions and long sentences aiming to sound profound is a sign of pseudo-intellectualism. Maybe I am wrong.
Those who know that they are profound strive for clarity. Those who would like to seem profound to the crowd strive for obscurity ― Friedrich Nietzsche
It reminded me of Professor Gordon Pennycook's study with an amusing title,  On the reception and detection of pseudo-profound bullshit, for which he got an idea after watching several philosophical debates involving a famous New Age self-help guru and listening to nonsense that sounded like random sequences of buzzwords. 
Pennycook and his team used a website Seb Pearce and automatically generated profound-sounding phrases. In short, the scientists mashed together words that sounded profound like quantum, growth, matrix, path, potential, transform, etc., and created phrases that made no logical sense. Canadian scientists recruited 280 test subjects (University of Waterloo undergraduates) to rate the profundity of these phrases that were supposed to emulate the style of inspirational quotes most commonly shared on social networks today.  
The study showed that over a quarter of the participants judged that the meaningless phrases were "fairly profound" or "very profound." The overall results also showed that the participants largely failed to detect that those statements were meaningless.
Unfortunately, it proves how easy it is to make nonsense that sounds credible. In evaluating the content, we need to use critical thinking to detect pseudo-profound "baloney" as Carl Sagan suggested in his book, The Demon-Haunted World: Science as a Candle in the Dark. 
Well-written, with good grammar and punctuation
I am sensitive to grammatical mistakes and always check spelling and punctuation in my posts. Because English is not my mother tongue, I always try as much as I can to write correctly.
Therefore, bothers me when native English speakers have plenty of grammatical errors in their posts.
On the other hand, some renowned writers always post good, well-structured, well-written, grammatically correct material but they write about the same stuff over, and over and over again. Someone said there are no boring topics only boring writers. I have to disagree - there are indeed dull topics that have been chewed over thousands of times. You can write about such topics funnily and unexpectedly, but keep insisting on them all the time bore the pants off of readers.
Content that adds value
Adding value to something is a bit vague phrase. By one of many definitions, the value-added content is engaging, educative, inspiring, informative or helpful in the eyes of your audience.
I wonder what value my posts provide to my readers. I don't write for gaining customers or building my personal brand, whatever it means. But looking at the level of engagement on my posts, I must be doing something right that attracts readers. I only have to figure out what it is. :)
Relevant 
It is another vague characteristic of solid content. Sometimes a topic is relevant to me (like this one), but it doesn't have to be for my audience. I can only hope that readers will find my thoughts worth starting a conversation which is the best relevance indicator to me.
 
Original
In reality, there is no content on social media that is utterly new. Most contents are, in fact, about writing on existing online material and someone else's insights and quotes. Ideas for my posts come from reading many online articles and scientific studies or from interaction with readers who comment on my and other people's posts. 
Being original isn't about searching for content that hasn't been written yet. It is about writing in your own and unique way. My posts may not be original, but they are different and distinctive.
It's like preparing a dish;  different cooks, same ingredients, but completely different tastes. 
Ultimately, the audience decides
Some posts have none of the quality characteristics listed above but still, provoke a high amount of engagement because the quality is also a subjective category. For that reason, it is hard to define a term that is both objective and subjective.
Like most things, the quality of a post is in the eyes of the beholder both the writer and reader.
In the end, the audience decides. Although, it's always good to keep in mind that, according to the mentioned study, at least a quarter of the audience think that something meaningless is very profound.
These are my few thoughts. What does quality content mean to you?

 
Title Image: Dafen oil painting village in southern China, has been at the centre of the global trade in art reproductions for more than 20 years. It is also known as the "world's oil painting factory." Most of the thousands of paintings produced every year are copies of famous masterpieces. 
"
You have no groups that fit your search