2 years ago · 3 min. reading time · visibility ~100 ·
Who Is In Your beBee Support Clique?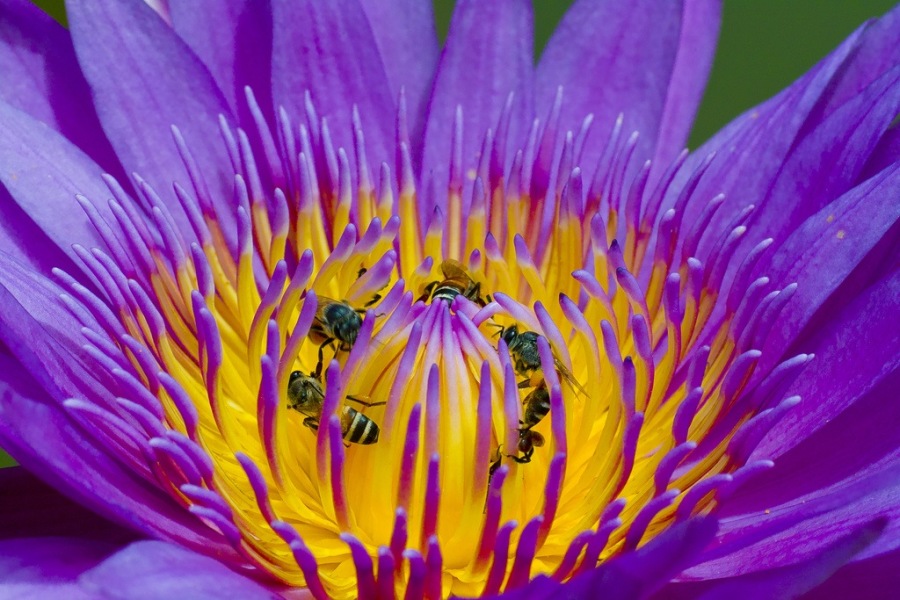 In spite of many drafts that wait to be finished, I find myself more inclined to write about things people do on social media, particularly on this platform. beBee is a small community in terms of the number of active English speaking users who post or comment regularly. Among them, there are distinctive close-knit groups whose members "like", share and comment on each other posts and very rarely engage with others outside their close, narrow circle. 
Reflecting on a study I've recently read about social ties, I find an onion with its layers very aptly metaphor for social media networks and circles of friendships. Notwithstanding the several hundred connections many of us have on beBee, the majority of one's interactions is devoted to just a handful - those at the innermost layers closest to the onion core (you). 
 
According to Robin Dunbar, personal social networks are hierarchically structured and consist of groups or "layers" surrounding the ego (the subject of the network) in concentric circles. Each layer differs in the quality and quantity of relationships, in other words, increasing the size of a layer decreases the intensity and quality of the relationship. 
Dr Dunbar is best known for formulating Dunbar's number, a measurement of the "cognitive limit to the number of individuals with whom any one person can maintain stable relationships." Determined by the brain size (neocortex), the upper limit of humans' ability to maintain social relationships is about 150 people in their social sphere. Within this 150, there are four layers of friends of an individual which cumulatively contain 5, 15, 50 and 150 people respectively as shown in the image. Within your 15 confidant friends, there is a close support group (clique) of your best intimate friends - 5 people on average. 
I took an onion vector graphic to visualise those friendship layers. It looks like this: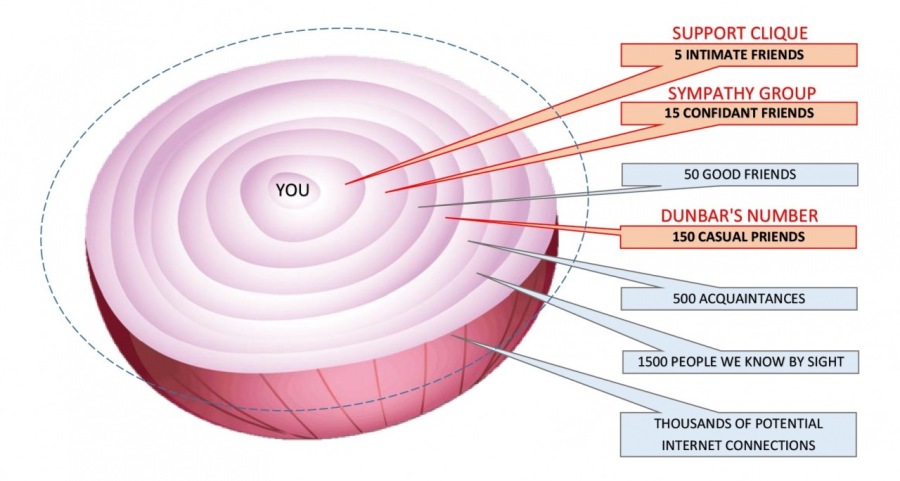 Over the years Dunbar and his colleagues have revisited his findings from the early 1990s and found that even in the world of virtual interactions the number of meaningful relationships people can have doesn't change. And that number is just under 150, no matter the thousands of casual contacts they have on social media. That is the average. In reality, there are people who could handle fewer than that (introverts like me) and more than that (extroverts). 
 
A support clique is a small homogeneous group of users who have similar affinities and beliefs, i.e., politics, types of jobs, hobbies or musical tastes. And not only that, as found in one study of social networking websites. People even tend to link up with others who look similar to them. To me, it is a surprising result. I don't think that my beBee friends look like me, but I may be wrong. :)
Even Facebook's own data corroborated  Dunbar's theory regarding the size of the "support clique" (5 intimate friends on average). While people on Facebook may have hundreds of connections, they mostly talk with 3 - 10 of their Facebook friends frequently enough to be considered a close friendship.  
When it comes to my personal network on beBee, these are some numbers. Among my about 400 connections (those who follow me and I follow them) on this platform, there are less than a hundred people with whom I maintain some form of engagement, at least occasionally. I would say that my "Dunbar number" is probably 80. 
Also important to say is that I don't know any of my connections offline. We never met face to face. 
The highest level of engagement I have with less than 10 Bees who I consider my close beBee friends. While growing my personal network over the years, close friendships didn't much increase in number. During the two and a half years of my presence on beBee, some of my friends left the platform (we're still in touch), some who I considered close drifted to the outer layers of my network and some others just vanished. But also some new friends came on. 
---
 
Coming back to the groups from the beginning of this post, apparently, we on beBee all have our "support clique" and "sympathy group" with whom we mostly engage. The only difference is how much time we manage to invest in maintaining friendships outside those groups; to "like", comment and interact with a wider network. 
From the comments section of posts and tagging of specific friends, it seems that most users have interactions only with their close friends. 
 
So, what's your Dunbar number? How many people do you consider your closest friends, those who are your beBee support clique? 
Title Image:  Circle of Friends is an awarded photo by spyzter found on Flickr.
You have no groups that fit your search