2 years ago · 2 min. reading time · visibility ~10 ·
QTrendControl - software for statistical analysis and trending of inspection results
How do you trend your inspection results? How do you determine whether your process is under statistical control or not? How do you know whether your process is successful or not?
QTrendControl software (https://matasoft.hr/QTrendControl/index.php) is a tool for seamless statistical and graphical trending of inspection results, for purpose of continuous process improvement.
It has been designed following principles of process improvement methodologies such as PAT, SPC and Six Sigma.
Learn about QTrendControl software here: https://matasoft.hr/QTrendControl/index.php
We have also prepared free demo application for you, check it out here: https://matasoft.hr/QTrendControl/index.php/demo
Typical examples of inspections that can be stored and analyzed in the QTrendControl application are:
Physical and chemical analysis of raw materials, packaging materials, bulk and finished products (pharmaceutical, diary, cosmetics, food & beverage and similar process industries)
Physical, chemical and microbiological inspections of industrial utilities, such as purified water, compressed air, nitrogen, clean steam etc.
clean-room conditions monitoring (air pressure, air velocity, humidity, temperature etc.)
in-process quality control parameters in manufacturing process
defects and defectives counting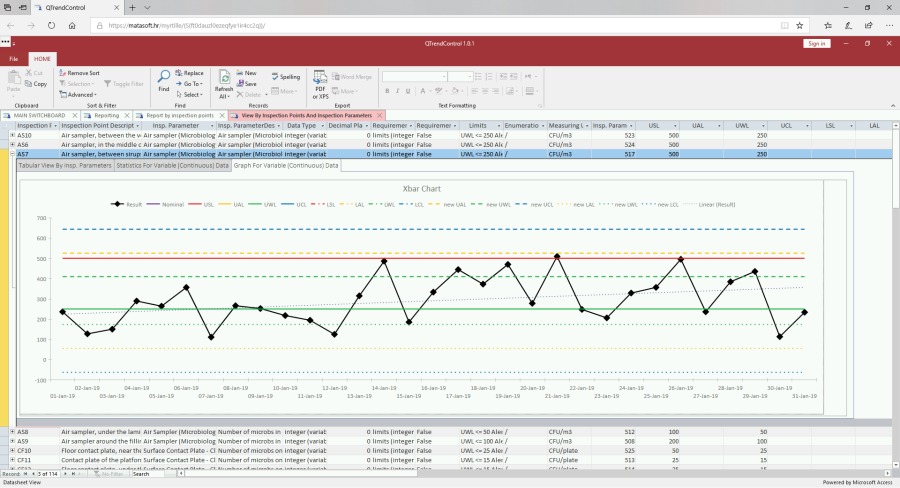 Our motivation for creating QTrendControl has been vision of providing robust software tool that would enhance manufacturing, quality assurance and quality control professionals and organizations. Our main goals have been:
To provide robust and integrated storage for both master data and inspection data, capable of storing and processing huge amounts of data
Role based model of assigning users to user groups to perform: system administration, master data management, inspection data input, inspection data correction, inspection data reporting
To provide integrated audit trail of each insert, update and delete of data
To provide fast, rich and user friendly graphical user interface, with powerful search and filtering capabilities
To manage organization structure and inspection matrix master data in a hierarchical and logical manner (organization-->department-->plant-->area-->line-->device-->inspection type-->inspection point)
To enable definition of multiple inspection parameters for each inspection point
To support both variable (continuous) data and attribute (discrete) data
To support various data types (integer, decimal, textual, categorical)
To distinguish between various types of requirements, such as limits and exact requirements
To enable linkage of inspection results to hierarchical organizational elements as well as linking to products, batches, lots and samples
To utilize templates for speeding up: inspection parameters definition, inspection data input, reporting of inspection results
To enable flexible and super fast way of inspection data input according to predefined inspection matrix
To enable powerful forms and reports for statistical and graphical analysis of inspection results, utilizing following quality management and process improvement principles and methodologies:

Control charts
Six Sigma
SPC (Statistical Process Control)
PAT (Process Analytical Technology)
Process capability calculation

To provide data source for further advanced pivoting in spreadsheet software and analysis in statistical programs
To provide technological basis for integration with internal and external IT systems (both inbound and outbound), such as:
We are convinced that our QTrendControl fullfills this mission in great extent and that you will find it to be great tool for providing you insight into your processes and enhance you to improve them.
Measure, trend & improve your process!
#control charts #ControlCharts #trend #trending #monitoring #quality control #QualityControl #QC #quality management #QualityManagement #QM #QMS #SPC #Statistical Process Control #StatisticalProcessControl #Six Sigma #SixSigma #PAT #Process Analytical Technology #ProcessAnalyticalTechnology #inspection #continuous process improvement #ContinuousProcessImprovement
You have no groups that fit your search