3 years ago · 1 min. reading time · visibility ~10 ·
My beBee Pearls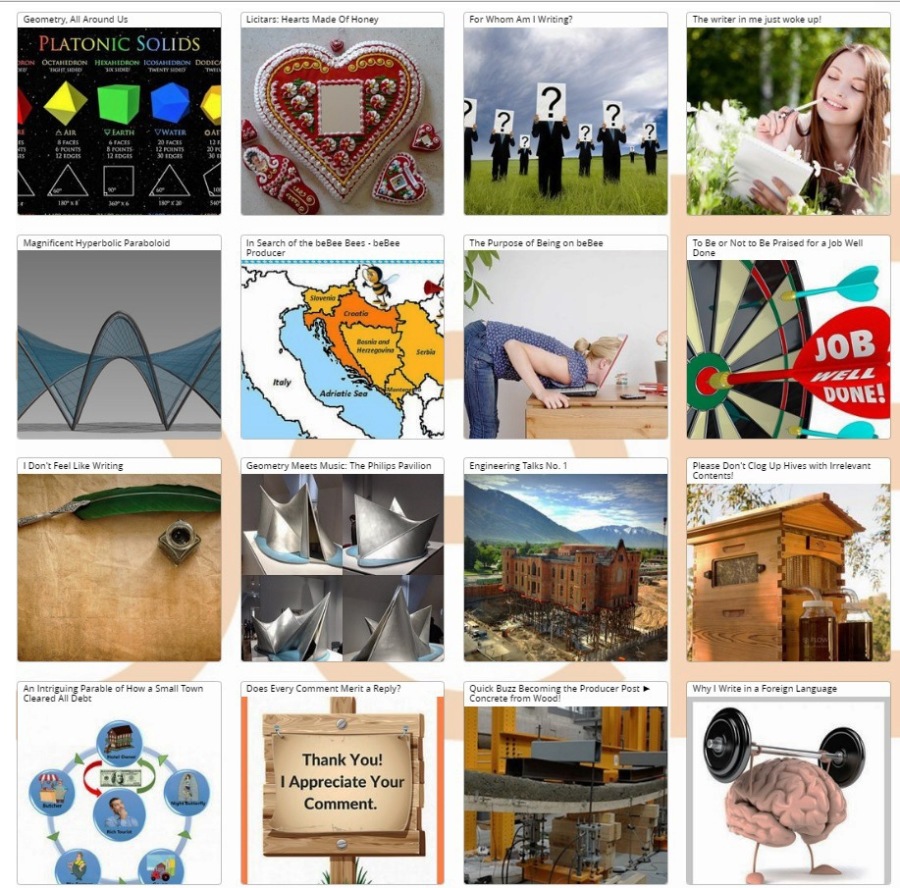 The Pearltree
Having several posts in drafts and persistently trying to finish them, I took a short break from these topics and made an inventory checking of my beBee articles I posted so far.
I was triggered by Ali Anani's post, Why I Write for beBee (2), where he gave some data showing the high level of engagement on his posts.
My small collection cannot be compared in number with the opus written by our King Bee, Ali Anani, but the level of engagement on my posts is high and make me proud of my blogging journey I started just on beBee about a year and a half ago.
I am so grateful to the beBee community for interacting with my posts and rewarding my writing efforts with Relevants and comments.
On my Pearltree, there are posts mostly on geometry, engineering and writing on beBee - the topics I am most interested in. I am still at the beginning of my blogging journey and continue to learn about the whole process.
Here are some stats regarding the level of engagement I experienced in this friendly online community, which includes a doubtful metric such as views. 
►

 16 posts


►

 50,000 views in total


►

 3,100 - the average number of views per post


► 6,300 - the highest number of views

 


►

 1,350 Relevants and comments in total


►

 47 - the average number of comments per post


►

 87 - the highest number of comments 


►

 1.5% - the average ratio of comments to views
► 4.1% - the highest ratio of comments to views    
An interesting fact is that the number of comments exceeded the number of Relevants on average 20%. To me, blog comments are the most important. They foster a sense of community by which this platform is unbeatable. 
Not just the above numbers that are better than any other publishing platforms I have posted on, but the inspiring writers and a whole positive environment encourage me to continue to write on beBee.

Because my posts are not numerous, I called them my beBee pearls.
Hoping that the Pearltree continues to grow.
                                                                                                 ~ ~ ~ ~ ~ ~
Title Image:
Pearltrees is a free service that lets you organize, explore, and share contents. It can be used to help you capture information, discover new content and keep things in a convenient and well-organized format. The title image represents my Pearltree of all beBee articles (https://www.bebee.com/@lada-prkic).
"
You have no groups that fit your search