Exclusivity of Truth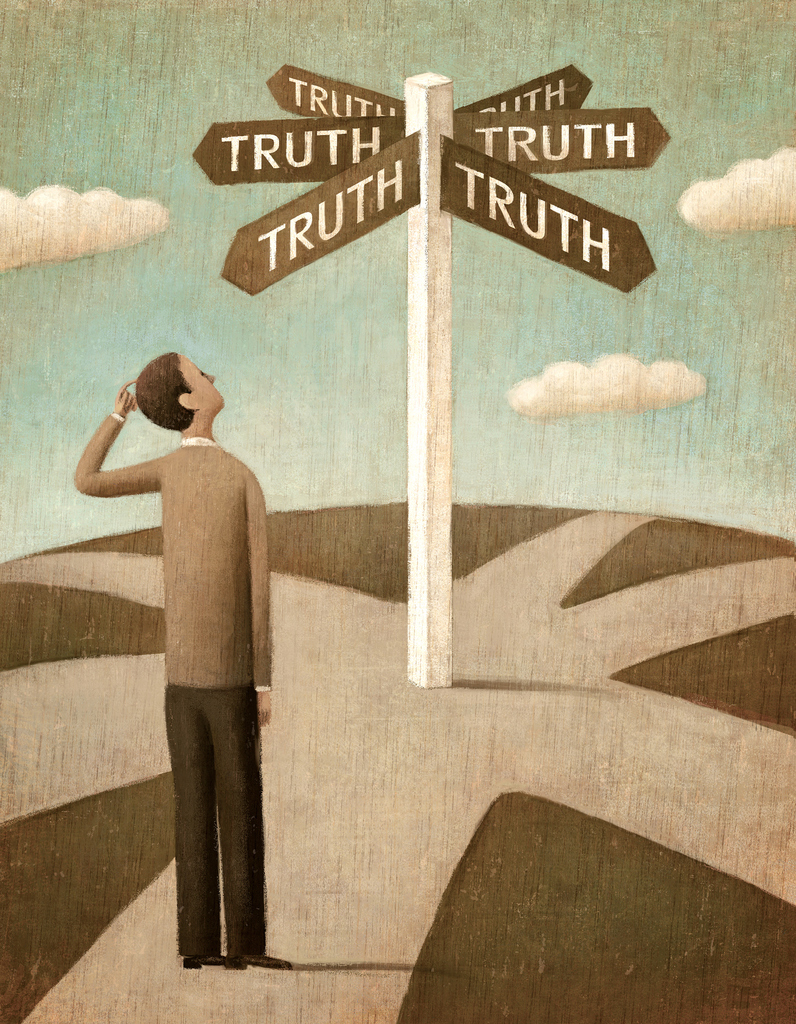 Over many centuries scholars have argued on matters of truth. For some, there is a certain body of knowledge that is absolutely true and not subject to interpretation or consideration of context. For others, all truth is relative and subject to change. There are many philosophical theories and definitions of truth. Each of them gives rise to specific issues and, more often, new theories.
As for religious truths, they are considered infallible and eternal. Many different religions claim to hold the absolute truth, to be the only right religion. A religion that sees itself as absolute takes other religions to be false.
Religious exclusivists believe that only one religion or belief system is true and that one true religion is their own. In more extreme form, they believe that only members of their religion will reach heaven, while others will be doomed to eternal damnation. Exclusivism is expressed in the Roman Catholic dogma extra ecclesiam nulla salus ("outside the church no salvation"). Exclusivism is found in all religions and belief groups. 
Since we live in a world of thousands of religions, such exclusionist rhetoric is not rational. And yet, a survey conducted in the US in 2016 found that 84% of those who hold evangelicals beliefs say "a hell is a place of eternal judgment, where God sends all people who do not personally trust in Jesus Christ." 
If the followers of each religion hold that their religion is the true one, then how many true religions are there? Accordingly, how many truths are there? Can we say that truth, like beauty, is in the eye of the beholder? 
Today, due to dogmatic abuses of the term, truth has become a questionable term. The essence of organized and institutionalized religion lies in the unquestionable acceptance of a priori truths inherent in religious beliefs that are typically shaped by dogmas imposed by the authority. Dogmas are not limited to religion alone. The basic premise of any dogmatism is; who isn't with us is against us! For if there is only one Truth, then there can be no other and different truth. Dogmatism is, therefore, in its essence exclusive and totalitarian, both in spiritual and political realms. 
In ancient Greek, the meaning of dogma was "something that seems true" or "that which one thinks is true." Etymologically speaking, a word that once meant a thought or opinion became later a term for infallible truth. 
All genuine Christian dogma can lay no claim to infallibility because it is not the absolute, unadulterated truth of God; rather is it the truth refracted and coloured by the human media of reflection, reason, elaboration, through which it passes. (Samuel MacComb)
I would also add that people who wrote them used the knowledge, beliefs, and philosophies of their time. 
Religions have continually evolved throughout history. Religions are born, grow and die. Some beliefs which were once held to be true are now considered false, and some for which truth is now claimed may be considered false in the future. Dogmas also have been influenced by history and the ongoing development of science.
If I ask some of my beBee friends which religion is the true one (for them), this could be their answers:
@Mohammed Abdul Jawad will say, Islam.
@Fay Vietmeier and @Greg Rolfe will say, Christianity.
Sara Jacobovici (who is no longer on beBee) will say, Judaism.
@Ian Weinberg would most likely say, philosophy and practice of Buddhism. 
@Pascal Derrien will say, none of them.
@Ken Boddie would possibly say that the existence of an all-encompassing hierarchal entity is not known with certainty and with the current level of human knowledge.
I don't know of any beBee friend who is an omnist (one that believes in all religions). :)
Can my friends all be right? If every religion is true, then no one is false. And if no one is false, then it would also be true to say all are false. 
---
These are only my musings and perhaps biased. I'm comfortable saying: 
I don't know the answer to something that lies beyond the limits of human experience or understanding. 
The existence and nature of the supreme reality are unknowable. How then can humanly formulated truths/claims be applied to this reality as infallible? There is no way to know if they are true or completely mistaken. If you believe in rigid truth claims that it is known what cannot be known, remember that you might be wrong. 
Keep your mind open to reevaluating your ideas about everything. We all have to become aware of the possibility that what we truly believe in may be wrong. It opens doors to new perceptions. 
We'll never have empirical knowledge of religious truths because they promise something that can be fulfilled only in the supernatural life to come. We should challenge our beliefs and have the desire for more knowledge to understand the things around us. It is the eternal path.

Title image source: https://luvnotestodaughters.wordpress.com/
Možda će vas zanimati ovi poslovi
Pronađeno u: beBee S2 HR - prije 4 dana

---

Job Description · Are you passionate about making sales data alive and turn it into meaningful insights to be a basis for fact-based decision making? Are you interested in using and applying AI, machine learning and forecasting models in future tasks? · Are you interested in the ...

Pronađeno u: beBee S2 HR - prije 3 dana

---

Keeper Solutions is an international software services firm with a global reach. We provide remote software development to leading FinTech and MedTech firms around the world. Keeper Solutions has several delivery centers located across Europe and North America. This includes cent ...

Pronađeno u: beBee S2 HR - prije 4 dana

---

Ericsson

Split

Puno radno vrijeme

Opportunity to Join Ericsson, Looking for Java Software Developer (M/F) – Split in Split 17, At Ericsson, we help our customers enable the full value of connectivity by creating game-changing technology and services that are easy to use, adopt and scale. · Our comprehensive portf ...