1 month ago · 5 min. reading time · visibility ~100 ·
Do You Play Number Games?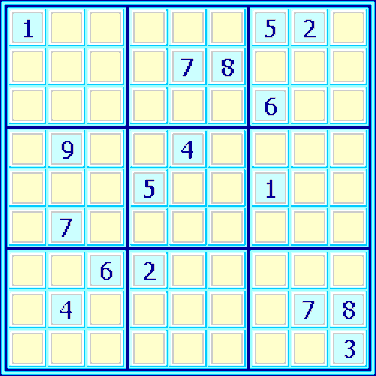 There's no doubt that our mind muscles need constant exercise. Keeping your brain active as long as you can is a strong defence against dementia. I know some 90-year-olds who are brighter than many in middle age. I hope to be like them when I am their age. :) 
Our brain functions inevitably change with age. But mental stimulation, along with physical exercise, can help maintain brain functions. We can stay mentally sharp by learning a new language or new technology even at a late age. 
My father was a continuous learner. He always aspired to learn new things. Because of him, lifelong learning became an integral part of my lifestyle. Staying curious about the world around me and embracing new knowledge and skills is my commitment to long-term self-improvement.     
Besides learning, I like playing chess (my father taught me to play chess when I was six) and Sudoku. Although very different, both games stimulate my mind and increase my concentration power. 
I am a big fan of Sudoku puzzles. For those of you who may not be familiar with this game, Sudoku is a number game in which players have to fill puzzle fields in a specific way based on specific rules. 
Classic Sudoku configuration is a 9×9 grid divided into nine 3×3 sub-grids called boxes or blocks. A player place numbers from 1 to 9 in such a way that they appear exactly once in each row, column, and sub-grids. Some of the cells in a puzzle already contain numbers (starting clues), and a player has to fill in the remaining cells given those constraints. The amount of starting clues affects the difficulty level of the game. Fewer starting clues, higher level. 
I am one of the millions around the world who enjoy solving Sudoku puzzles - from children to nonagenarians. As for those nonagenarians, the Alzheimer's Association in the United States has endorsed Sudoku as prevention against this disease. The published studies suggest that Sudoku may prevent dementia. 
Why do I enjoy playing Sudoku? 
First, I like numbers. Number games and number problems improve my logical thinking process as well as memory. To solve a Sudoku puzzle, you need to use deduction and logic, besides different techniques (tips and tricks). 
Sudoku is relaxing. It helps me clear my mental clutter. It also gives me a little mental break when feeling overwhelmed by my mom's health issues. It is like a "battery charger." 
Sudoku is brain-challenging. Every time I solve a difficult puzzle, it brings me a sense of satisfaction and some sort of accomplishment. It's a kind of recognition of my mental skills. I don't use any algorithm to process the clues, just my brain. 
You don't have to solve your puzzle at once. Sometimes, when a puzzle seems unsolvable, I pause playing and step away from it for a while. I apply the same approach in my work. When I get stuck on a problem, I step away, focus on something else, and then come back to the problem with a clear mind and fresh eyes.
I keep playing no matter how many times I get stuck. Sudoku teaches me to be patient and persistent. 
Some interesting facts about Sudoku
Minimum Sudoku Problem
It is an unwritten rule that a well-constructed puzzle must have only one solution - and is solvable without guessing. But what is the smallest number of starting clues for a grid to be uniquely solvable? The question puzzled not just Sudoku fans but also mathematicians and tested the limits of mathematical knowledge in combinatorics and the limitations of computers. 
The solution for the "minimum Sudoku problem" was given by mathematician Gary McGuire and his colleagues in 2012, after almost a year-long computing on, then, Europe's fastest supercomputers. They have examined every potential 16-clue solution for every possible Sudoku grid. The result was:
There is no proper16-clue Sudoku. 
If there are no uniquely solvable 16-clue Sudoku, there cannot be any grids with fewer clues that are uniquely solvable. Thus a minimum number must be 17. The method they develop to solve this problem can be used in other problems in mathematics and combinatorics.
But sometimes we can find puzzles with more than one solution, as explained in the following example where we can interchange the digits 4 and 9 and still get valid solutions, thus there are two ways of completing the grid. Multiple solutions are based on how the starting clues are given and their positions in the grid. Such puzzles are not considered proper Sudoku. (A proper Sudoku has only one solution).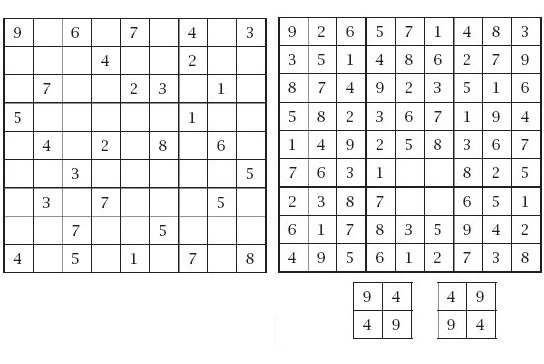 Variations of Sudoku
There are many variations of Sudoku. Some of the variants have additional constraints that complicate solutions significantly. I use to play two of them, Killer Sudoku and KenKen.
This variant adds a new dimension to classic Sudoku. The grid consists of areas (cages) that are outlined with grey or dotted lines. There are no starting clues! Instead, a total of each area is given. Numbers inside an area, when added together, should make a number shown in the upper left corner of that area. All the rules of the normal Sudoku apply - each number appears exactly once in every row, column, box and cage. It is really brain teasing because more than one combination of numbers gives the required total value. 
Below is one of the world's hardest Killer Sudoku. You can try to solve it here.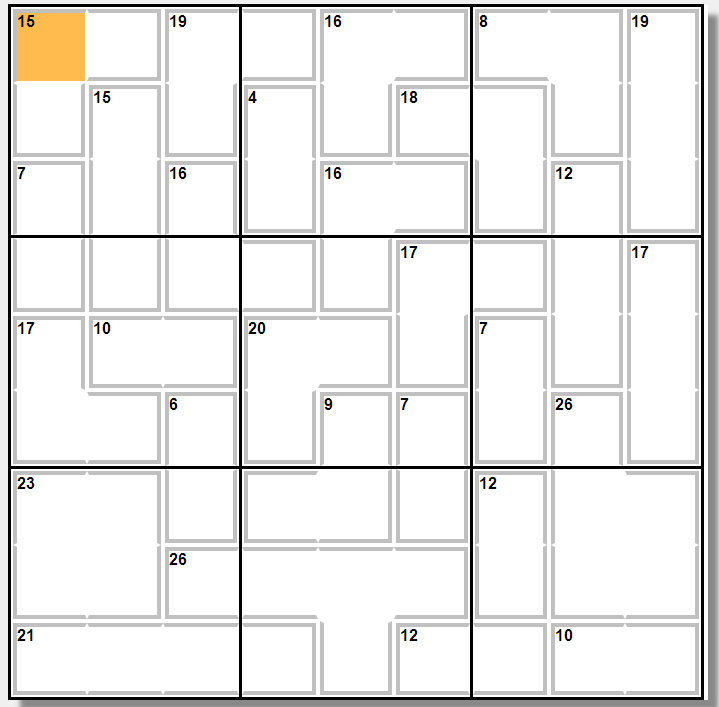 KenKen is a sophisticated arithmetic and logic puzzle invented by a Japanese mathematics teacher in 2004. He developed a brain-stimulating exercise with the main goal to improve student's math and logic skills. KenKen is similar to Killer Sudoku but with additional constraints - operations. The target numbers in the top corner of each heavily outlined area (cages) are produced by using the mathematical operation indicated behind the numbers (+, -, ×, ÷). 
I find KenKen more challenging than classic Sudoku. It is a great exercise for practising mental arithmetic. The difficulty level increases depending on the size of a grid. The hardest KenKen puzzles are Black Belt KenKen.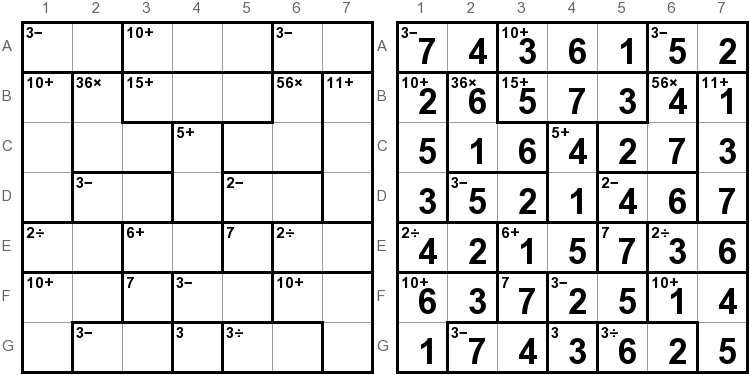 Worldwide Sudoku Championship
World Sudoku Championships are held annually since 2006. The very first competition was held in Lucca, Italy, in 2006. The most successful winner is from Japan, having won the title four times. Also, Japan is the most successful team. 
World's Hardest Sudoku Puzzles 
Arto Inkala is a Finnish mathematician (doctor of science in the field of applied mathematics). He is also a passionate puzzle creator who created some of the world's most difficult and challenging Sudoku puzzles:  'AI Escargot' in 2006, and 'the thing Everest' in 2012.
The Miracle Killer Sudoku is an extremely hard puzzle created by Philip Newman. It seems unsolvable because only 18 cells are covered by cages. Sudoku fans proclaimed the puzzle one of the most incredible 'sudokus' of all time. If you want to try to solve it, here is a link to the puzzle. If you need hints for solving, here is a link to the video on the most popular YouTube's sudoku channel, in which the solution is explained in detail.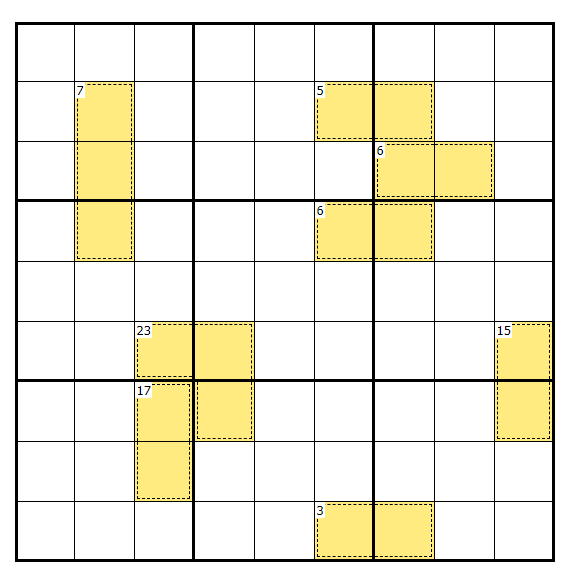 But the hardest puzzles are created by computer programming. There were much larger puzzles with 16 × 16 or even 25 × 25 grids and a three-dimensional version in the form of a cube.
***
There are many more interesting facts about Sudoku and its variants. Sudoku is fun and fascinating and the most popular logic game in the world. The fact that many mathematicians are fascinating by Sudoku explains a lot about this puzzle and the sophisticated mathematics behind it. 
Is it addictive? Yes! But as with many things in our life, moderation should be practised. 
I leave you with a paraphrase of the well-known saying:
One or two Sudoku a day keeps the doctor away. 
And what about you? Do you play number games? 
Title Image: Sudoku GIF, Source: Wikimedia Commons
You have no groups that fit your search