3 years ago · 1 min. reading time · visibility ~100 ·
An Intriguing Parable of How a Small Town Cleared All Debt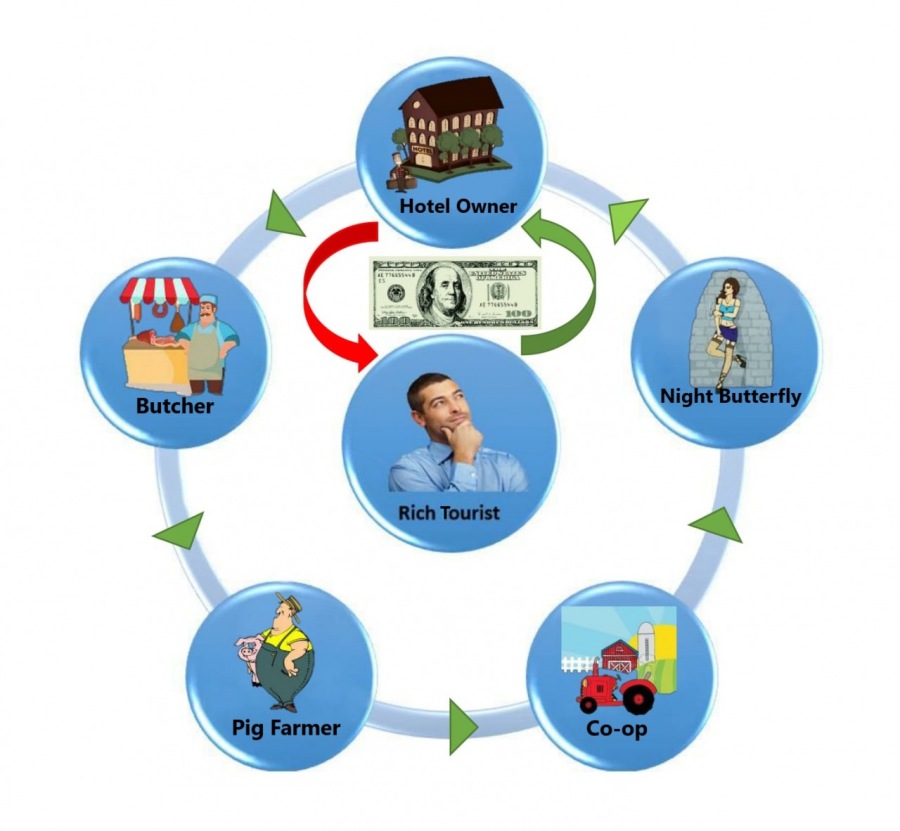 Several years ago I found on the Internet a funny parable about the debt cycle. Lately, I stumbled upon it again and decided to share this humorous tale. 
There are many versions that differ in the name of the place where this tale and somewhat a riddle is taking place. The original author is still unknown.
Here's How It Goes
 
 

It's a slow and hot day in the little town somewhere in the middle of nowhere. Times are tough, everybody in town is in debt, and everybody lives on credit.

On this particular day, a rich tourist is driving through town. He stops at the only hotel in town and lays a $100 bill on the desk, telling the hotel owner he wants to inspect the rooms upstairs in order to pick one to spend the night. The owner gives him some keys, and as soon as the visitor has walked upstairs, the hotelier grabs $100 and runs next door to pay his debt to the butcher.

The butcher takes $100 and runs down the street to retire his debt to the pig farmer.

The pig farmer takes $100 and heads off to pay his bill at the feed store.

The guy at the farmer's Co-op takes $100 and runs to pay his debt to the local prostitute who has also been facing hard times and has had to offer her services on credit.

She, in a flash, rushes to the motel and pays off her room bill to the hotel owner with the same $100 bill.

The motel owner now places the $100 bill back on the counter so the rich tourist will not suspect anything.

At that moment the tourist comes down the stairs after inspecting the rooms, picks up the $100 bill, states that the rooms are not satisfactory, pockets the money, and leaves the motel.

No one earned anything. However, the whole town is out of debt and looks to the future with a lot of optimism.

 
This story circulates the Internet for years and has even provoked respected financial experts to comment. Some experts think of it as a brain teaser that transferred on a larger scale can be used to comprehend the roots of the current financial crisis. Some others say it's a silly story with no real value.  
 
I am not a monetary policy expert, and see it as an intriguing example of clearing debt. I noticed a flaw in the final argument. Do you think one person wrote off his debt? 
"
You have no groups that fit your search