A Question That Has Long Lost Its Meaning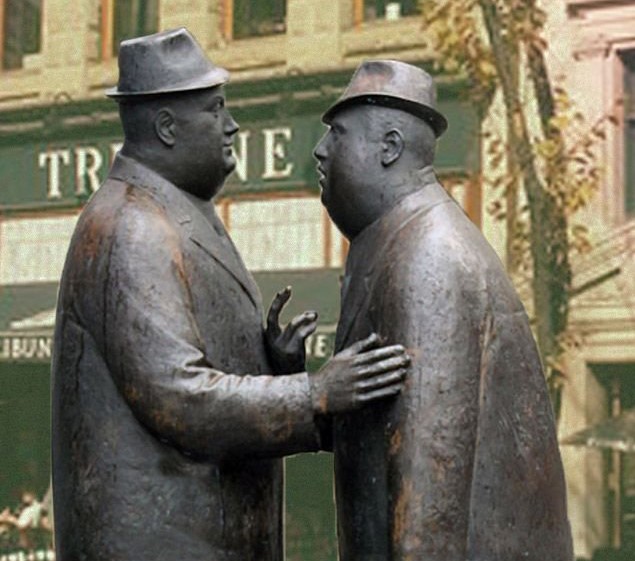 The Conversation Statue - Calgary
I don't like being asked how I am, even by the people who know me well. The question annoys me because it is just a polite expression asked for the sake of order. People simply say, "How are you?" and continue walking or doing whatever they were doing before. They don't wait for an answer.
Long ago, I believed that when people ask, they want to know and care to listen to how you are, and you will tell, for better or worse, the truth. But people don't really want to know. Those who genuinely do want and care are "rarae aves" – rare birds, and they are my best friends.
I know that for an Englishman or American, "How are you?" isn't a question but a form of 'hello' in passing. It's just a ritual of asking for the quick lie – "I'm fine." You are expected not to be honest, even if you are feeling sick, and the person asking is not prepared to listen to anything more than a clichéd response. It is an unwritten rule.
I've recently heard the story of a physician who conducted a small experiment at a large hospital where he worked on how much people listen and pay attention to what the other person is saying. As a respected physician whom many in the hospital knew, he walked through the hallways where passersby greeted him and asked, "How are you?"
He kept answering: "Great, I just killed my aunt!" 
People continued on their way as if he had said nothing. No one even looked back. The thirtieth person who asked the question stopped and said, "Sorry I didn't hear you well." Then again, no one reacted until the sixtieth passerby looked at him in astonishment, for he was the first who stopped and listened to the answer.
This experiment says all about our ability to listen and show respect by listening to others. "How are you?" is one of the emptiest phrases we say daily. Those are just polite words with no real meaning.
We live in an alienated society. We have been meeting our neighbours for years, but we don't know who they are or their names. We ride with them in the elevators face to face but stare at the floor and don't say a word, even a seemingly unimportant question, "How are you?"
When asked, people mostly reply, "I'm fine," even if they're dying. One of my colleagues often answers, "I can't complain," although he is far from being well. A friend said to me that he always answers, "couldn't be better," because friends will be glad, and 'enemies' will burst with envy. Another friend has a different strategy. He never responds that he is OK or good. He believes it's better for people to feel sorry for you rather than envy you. When I'm not in the mood, I sometimes answer, "Do you have an easier question?"
None of us tells the truth, even the short version, because people don't care to listen.
Call me naive, but perhaps honestly asking "how are you?" could be one of the ways to deal with alienation. People living in the countryside still care about how others are. They stop and ask and are really interested in it! Social norms are different. People greet anyone who comes across by saying, "Good day, how are you?" Even if they pass a stranger, they will stop and ask. While we were travelling through the Dalmatian hinterland, it seemed perfectly natural to us to engage in conversations with local villagers who stopped and greeted us.
That kind of interaction is almost impossible in big cities. While I was writing this article, I also did a little experiment. As I passed them, I greeted several strangers on the street (although with a certain amount of discomfort). All I got was a suspicious glare and no reply. Only one person returned my greetings but asked if I might have mistaken him for someone else. It was one of those moments when you asked yourself, "What kind of world do we live in?"
It just occurred to me that even those who stick to the unwritten rule and usually answer, "fine, thanks" or "good," break it when their doctor asks them how they are. Then they are expected to be completely honest.
Social rules are not permanent, and sometimes you have to change them. Let's stop asking, "How are you?" unless we are prepared to listen.
Originally published on BIZCATALYST 360°.
Pisanje
Možda će vas zanimati ovi poslovi
---

Hitachi Careers

Zagreb, Hrvatska

Description: · Our customer is an American company that designs and sells televisions, sound bars, viewer data, and advertising. · Our job will be in the development of middle layer that will allow na ...

---

Hitachi Careers

Zagreb, Hrvatska

Description: · GlobalLogic has been developing standalone telematics solutions for vehicle connectivity, letting car drivers enjoy the newest automotive features, innovative safety navigation, and ent ...

---

Teva Pharmaceuticals

Zagreb, Hrvatska

Tko smo mi? · Teva je globalni farmaceutski lider i najveći proizvođač generičkih lijekova na svijetu, posvećen poboljšanju zdravlja i povećanju pristupa kvalitetnim zdravstvenim rješenjima širom svij ...